Top Ten Tuesday: Top Ten Books I Want My Everyone To Read
Before I start this Top Ten Tuesday I have to make a confession. I'm really not a fan of the old classics; Jana Austen, Charlotte Brönte, Charles Dickens… they just aren't my cup of tea. Because of that, the "100 before you die list" sadly isn't a list I will ever be able to complete (I tried many times,  believe me ?). So this week I thought it would be a good idea to make my own little list of books I would recommend to everyone!
Top Ten Tuesday is an original feature/weekly meme created by The Broke and the Bookish. This weeks theme is actually; Top Ten Books I Want My Future Children to Read. But I just didn't want to exclude the rest of society! I also can't imagine myself with grownup children who are old enough to read those books!!! I'm nowhere near ready for those thoughts!
1. The Kite Runner – Khaled Hosseini
I read this book a really long time ago (7 years I think), but it has left such a big impression on me.  This book is such an important book, it opens eyes and if you don't feel anything while reading this book you should definitely see a shrink because there's something wrong with your emotions for sure! It's completely beautiful and devastating at the same time. A big part of it also focuses on the life of the children living in a city that's being destroyed by war and that makes it even more heartbreaking. I'm sure everyone who read this book will agree: you have to read this once in your life.
2. Outlander – Diana Gabaldon
Most books that I read, I read because someone told me they're amazing (or they look cool and are on Netgalley, guilty as charged ? ). I'm not really the kind of person who gambles with money and time and I really detest spending money (or just time) on books and ending up being really disappointed by them. That feelings roller coaster is just not worth it. But with Outlander things went completely different, I saw this series standing somewhere and I remember thinking that I just had to read them! I had never heard of them (this is like 9 years ago so don't judge me!) but it was probably because those massive books with their colourful spines just screamed for my attention. And they are sooo good! I was completely in love with the story (and Jamie of course ? )! I can't really say that everyone has to read them, because people who don't like romances probably wont be the biggest fan of this series. But I'm ready to officially declare this a classic.
IF you are a fan of romance, just read this series already. You'll want an Highlander boyfriend in no time!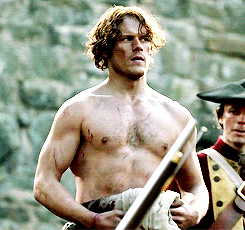 3. The Hobbit – J.R.R. Tolkien
This is a book I should definitely reread. It's over a decade ago since I read this, but I still remember a big part of the story. I know not everybody is a fan of J.R.R. Tolkien*, but if people ask me which books I remember best from all books I read through the years this one is definitely in the top 10 (you don't want to know how many books I've completely forgot through the years, I guess at least 100 books!). Dragons, cute hobbits, Gandalf… All in one amazing and adventurous book.
Also: The book is so much better than the movie! I'm not really complaining, because Orlando Bloom played in them! But what was Legolas even doing in the Hobbit??
*All the different books by Tolkien definitely won't make it to this list. It's like The Hobbit is written by another writer! I'm actually a bit ashamed because I never succeeded in finishing the LOTR trilogy! Shame on me!
4. Harry Potter – J.K. Rowling
This list wouldn't be complete without Harry Potter on it. and I'm actually pretty sure that 90% of this week's Top Ten Tuesday posts will have Harry Potter on it (otherwise: what planet am I living on!?) . In this case I'm ready to sacrifice originality for the absolute truth. For different reasons as to way you should read this, I'm sure the other TTT's will provide many awesome arguments! ?
Every human being has to read the Harry Potter books, it should be part of every school program in every country. Those books changed my childhood for sure, and I'm not embarrassed to admit it ?!
5. Animal Farm – George Orwell
All Animals are equal but some are more equal.
This is some creepy piece of literature! By using animals in stead of humans it makes it so much more interesting. It's a history lesson in a book, and for once it's not boring! (I'm sorry if you like history, we can't all be perfect!). Sometimes it's difficult to imaging a group of people standing behind a figure that clearly isn't a good leader! This book shows you how "simple" it is for charismatic people to make people loose touch with reality. There are some valuable life lessons in this book!
I tried to read 1984 this year and I completely failed (it took me four months to get to page 100). When I read the reviews of 1984 on Goodreads I'm actually wondering if I was reading the wrong book. Maybe it was because it was about actual people? It just was so over the top that it didn't seem likely to ever happen in real life.
6. The Inheritance Cycle – Christopher Paolini
Don't you dare to watch this horrible movie!! Okay, I know the fourth book's ending wasn't what we hoped for. But come on, this world is just so crazy amazing! If you read the books you can't pretend you didn't like the "Eragon learning magic part". I don't even know why it's so special to me. I guess the only way I could ever find out is by travelling back to smol Lena, many years ago, and ask why. Those books are still messing with me and my feelings after all those years.
I'm still confused as to why Paolini never wrote another book. I'm still waiting and will be waiting on it for the rest of my life.
7. The Angel Maker – Stefan Brijs
This book is from a Belgian Writer (hello! Welcome! I'm from Belgium!) and I don't normally write about books from Belgian writers on this blog, but for once I'm making an exception. He is my favourite Flemish writer and because of that he deserves a place in this week's Top Ten Tuesday. Flemish books truly are a genre like no else, it's always a bit more "depressing". But this book is a masterpiece! It's a really complicated book about a doctor in 1980 (or something) who clones himself. The doctor takes his cloned triplets to a small village where nobody even heart of cloning. It's such a weird and powerful book and it still creeps me out!
8. Perfume: the Story of a Murderer – Patrick Süskind
This one screwed with my head so hard! That ending was disgusting! But I think it's a true masterpiece (again, hahaha?). It's creative and well written and just a book that everyone should read. It's like no other book that I've ever read. A book about murders and weird perfumes. Süskind is a master storyteller, he makes it easy to imagine sounds while reading. That definitely is an art!
9. Memoirs of a Geisha
This book is very special to me. When I was a kid I loved to read, I was actually a very mature reader for my age and at the age of 10 I was reading books a 14 year old would normally start to read. For example I first read The Hobbit when I was 11. But from the age of 13 we had to start reading a lot of books and review them for school. When I asked if I could use The Hobbit for a project my teacher said that I was way to young and should read books more appropriate for my age (read: childish books I outgrew 4 years earlier). This was the start of my very bad experience with reading books that I really didn't want to read. School just made me loose my passion for reading instead of making me love reading more (that was apparently what they were trying to do). Slowly I stopped reading for fun all together. When I went to uni the book reviews stopped (I'm an engineering student, so no mandatory reading for me!). And very very slowly I began to miss reading books and sometimes I read a book (but never more than 3 books a year, like I said the love was completely gone). Until I found Memoirs of a Geisha (December 2016). I read the book and I loved it so much. It took me back to those years where I just lost myself in reading! I can really say that this book is the reason that I started this blog and read over 80 books in 2017. This book will be forever in my favourites list and it means so much to me. I need everyone to read this book!
10. The Hunger Games – Suzanne Collins
Okay, I have to admit that I just didn't know what else to put here! Literature is something personal and most of the time I'm like; I actually completely understand it if you don't like a book I love. The Hunger Games books weren't even THAT good. But a lot of my friends who only watched the movies were very confused with the story lines. So, I'm putting the Hunger Games on this list for all those confused creatures out there! READ THE BOOKS, everything will be explained (especially the second book)!
Thank you so much for reading until the end of my TTT of this week!
Let me know in the comments if you are a fan of classics, or which books you would want everyone to read!
See you next time!